Ampliat el període de matrícula de la 35a Universitat d'Estiu de Gandia
Fundació General UV

July 10th, 2018
Un curs de la UEG 2017.
El període de matrícula dels cursos i tallers de la Universitat d'Estiu de Gandia (UEG) s´ha ampliat i es pot formalitzar fins el 16 de juliol en la web www.uegandia.es Els cursos, de temàtica variada, tenen una duració d'entre 10 i 8 hores, i s'organitzen a partir del lema 'A cavall entre dos segles'. L'oferta d'enguany la conformen 11 cursos, set tallers i un seminari.
L'oferta de cursos, que s´impartiran del 16 al 20 de juliol, es pot dividir en blocs: el primer d'ells, dedicat a la medicina i les ciències on destaquen cursos com ara el coordinat pel director de l'IVI, Antonio Pellicer, sobre la reproducció humana; un altre que abordarà les invasions biològiques i les conseqüències de barrejar la natura; o un sobre els neandertals on participaran alguns dels principals investigadors en teoria evolutiva i paleontologia de l'actualitat. Un altre bloc és el que atendrà la comunicació i les ciències socials on s'ha programat un curs que tractarà el periodisme en el segle XXI i on participen periodistes destacats com ara Jesús Maraña, Lola Bañón o Adolf Beltrán; o un altre dedicat a l'estat actual de la democràcia i l'estat constitucional, i en el que intervindran l'exportaveu de Jueces para la Democracia Joaquim Bosch, la periodista Elisa Beni i el professor Fernando Flores. Un tercer bloc de cursos el componen aquells dedicats al patrimoni on destaca el curs 'Fotografia, memòria i patrimoni'. A més, és important el curs dedicat als refugiats, desplaçats i migrants, impulsat des de la Càtedra UNESCO d'Estudis sobre el Desenvolupament de la Universitat de València i de plena actualitat aquests dies.
Aquesta edició de la UEG presenta a més dues novetats. En primer lloc, la constitució en el marc de la UEG de l'espai 'L'estiu de les dones', impulsat en col·laboració amb el Vicerectorat d'Igualtat, Diversitat i Sostenibilitat de la Universitat de València, i on s'inclouen tres propostes: un curs sobre el paper del feminisme en els canvis que estan produint-se en els nostres dies, dirigit per la catedràtica Isabel Morant, i dos tallers: el primer dedicat a analitzar el paper d'un grup de dones del Cabanyal, i un seminari sobre política i feminisme impartit per la històrica feminista Lidia Falcón. La segona novetat implica la tornada a la UEG de l'Acadèmia Valenciana de la Llengua per a organitzar en aquesta cita estiuenca un curs dedicat als clàssics valencians i un seminari sobre Francesc Ferrer i Pastor quan s'hagueren complit 100 anys del seu naixement.
Pel que fa als tallers, a banda dels ja anomenats, aquesta edició presenta altres dedicats a temàtiques tan variades com el jazz, el cinema, l'enquadernació o l'educació, i fins i tot un taller sobre introducció al 'mindfulness' des de la tradició budista, dirigit per Francisco Fernández Villalba, conegut com Dokushô Villalba, mestre budista. A més, l'experiència de "las ganchilleras luchadoras" del Cabanyal també serà presentada en un altre taller.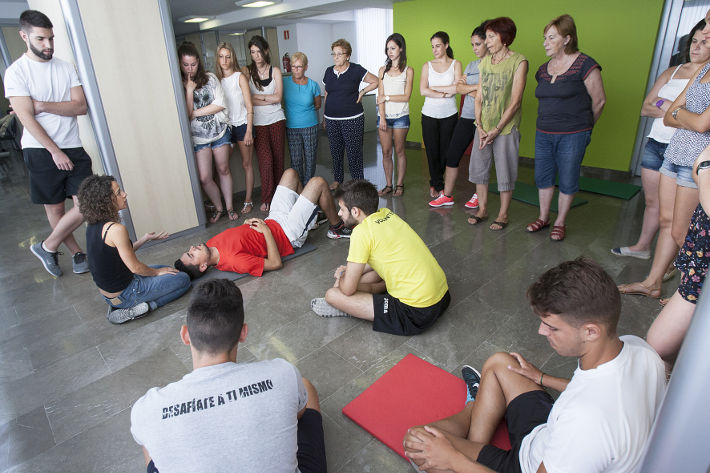 Activitats obertes per a les vesprades i les nits
La programació de la Universitat d'Estiu es completa, com és habitual, amb una àmplia programació d'activitats obertes a la ciutadania. La primera d'elles serà la conferència inaugural que impartirà Anna Noguera, membre del Consell Valencià de Cultura, i que tindrà lloc dijous 12 al Jardí de la Casa de la Marquesa.
Dilluns 16 serà el torn de la periodista Rosa María Calaf, qui farà una intervenció titulada 'Contant el món en femení'; dimarts 17, serà el torn de la taula redona 'Revolució digital o involució intel·lectual', on participaran els periodistes Lola Bañón, Jesús Maraña i Adolf Beltrán; dimecres 18, el sociòleg Ignacio Sánchez Cuenca parlarà sobre 'Què hi haurà darrere de la democràcia'; mentre que, dijous 19, el magistrat i exportaveu de Jueces para la Democracia parlarà sobre el retrocés de les llibertats. L'última taula redona d'aquesta edició serà l'organitzada per la Càtedra Cucó i en ella s'analitzarà el conflicte català de la mà de l'escriptor Antoni Puigvert. Com sempre, totes les conferències seran a les 20 hores, a la Casa de la Marquesa.
Per les nits, a les 22:30 hores, l'activitat es trasllada al jardí de la mà del teatre i la música. L'activitat començarà dijous 12 quan la companyia Escena Erasmus de la Universitat de València presentarà l'obra 'La gran final'; mentre que, divendres 13, es programaran monòlegs científics. La música serà la protagonista a partir de l'altra setmana. Dilluns 16, la cantant Cristina Blasco presentarà un homenatge a Chavela Vargas; mentre que, dimarts 17, serà el torn de la Benimaclet Big Band. Dimecres 18, The Red Velvets seran les encarregades de reinterpretar els clàssics del swing i el jazz. També els Jòvens, que actuaran dijous 19, són especialistes en reinterpretacions però, en aquest cas, de la música tradicional valenciana. L'última actuació, divendres 20, estarà protagonitzada per That Old Feeling, un quintet de jazz que presenta una interessant novetat: la de comptar amb una veu masculina sobre l'escenari, la d'Òscar Briz.
More information: