La convocatòria 2023 té prevista l'obertura del període de presentació de propostes el 12 d'abril, amb tancament el 13 de setembre de 2023.
S'acosta la data de sol·licitud de les beques PF (postdoctoral fellowships) de les accions Marie-Sklodowska Curie (MSCA) de formació i mobilitat de personal investigador. Aquestes beques de la Comissió Europea van adreçades a investigadors i investigadores postdoctorals de tots els camps de recerca, que compleixen certs criteris d'elegibilitat (consulta el Programa de Treball 2023 de les accions MSCA). Hi ha dos tipus de beques PF MSCA: europees (mobilitat intraeuropea i d'un país de fora de la UE cap a Europa) i globals (eixir de la UE cap a un tercer país i després tornar a Europa)
Ara és el moment de llegir la documentació de suport disponible i participar a les sessions informatives.
Webinaris en línia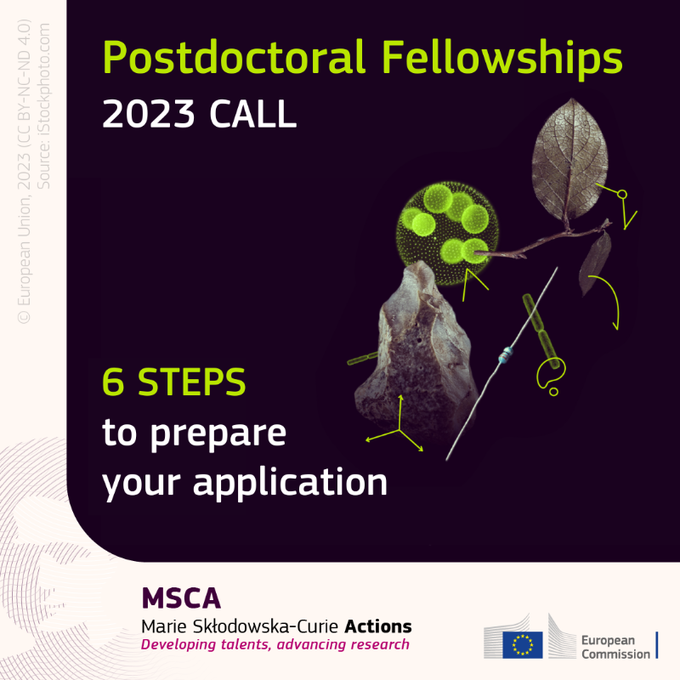 Guia MSCA beques postdoctorals en 6 passos de la Comissió Europea
Are you ready? The #MSCA Postdoctoral Fellowships call 2023 will open soon! Our 6 step guide will help you find the best host organisation and draft a successful proposal. Whether you are new or experienced to this call, these are must-follow tips & tricks. Check them out!
Si ets personal investigador de la Universitat de València i estàs interessat, tens a la teua disposició la nostra Secció d'R+D+I Internacional del Servei de Transferència i Innovació de la UV. Contacta'ns al correu-electrònic sti.internacional@uv.es.